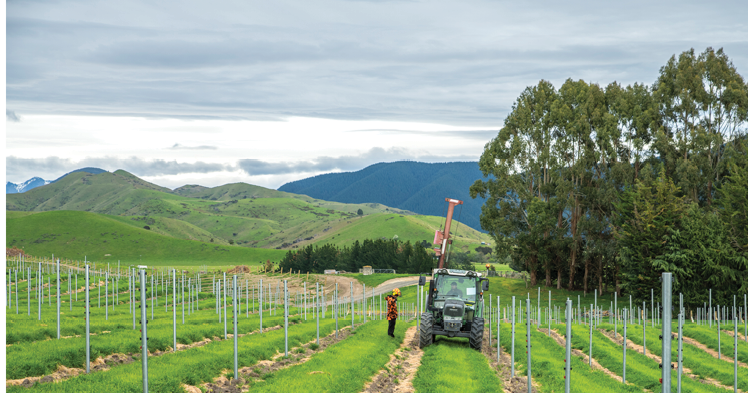 New vineyard integrated into farming operation
The Pyramid is a multi-faceted farming business currently comprising 602 ha within the boundaries of the Avon, Tummil and Waihopai rivers in Marlborough. Two generations of the Dawkins family manage sheep and beef, various tree blocks for forestry and firewood and an apiary operation, while the first vineyard block created five year ago is leased out to a high profile wine label.
A second vineyard has just been planted with its eight contoured blocks bringing more of a European feeling to the hills of Marlborough compared to most large, flat, rectangular vineyards in the region.
Chris Dawkins says their philosophy has always been to make the best use of any land type. "Whether it's sheep, trees or vines, we want to farm to the conditions, to grow what grows best there."
Chris is also receptive to new ideas and says the advice to secure water rights to help add value to the farm compelled them into viticulture. "We changed the land use to make use of the water or we'd have lost those rights. We now have a desirable lessee on the first vineyard, and viticulture ticks a number of boxes in terms of succession planning with our four sons and their families. It provides options for future generations."
Richard Hunter, from Southern Valleys Viticulture, was involved in the project management of the first vineyard at The Pyramid and Chris says they were fortunate to lure Richard back to help with the 45 ha stage two development.
"The Dawkins have farmed here for over 50 years, creating beautiful soils," Richard says. "If we'd planted perfect north-south rows we'd have had to recontour multiple areas using a dozer. We didn't want that so designed the blocks to fit the rolling contours."
Richard spent considerable time walking the ten original paddocks to decide on the orientation for each block allowing for safe tractor use along the rows. "I talked with many winemakers, all of which said the north-south and east-west element is not regarded as so important now. In fact, they indicated that having multiple row orientations would be of benefit in terms of flavour profiles, and so we took inspiration from looking at European and Californian vineyards which have mixed orientation according to contour."
A key aspect of future vineyard management is to be able to graze sheep at specific times of the year. Richard says grazing must be intensive for effective weed and grass control around vines, so this required the ability to split the 2.5 to 16 ha blocks into smaller grazing 'paddocks'.
"We had already opted for EcoTrellis steel vineyard posts. They don't need replacing, save money in the long term and mean we can futureproof the option of growing organically. Through Blair McLean from Fruitfed Supplies, we went to New Zealand Steel and Tube (NZST) about adapting the steel posts to allow sheep netting to be fitted. They made some prototypes and the final 2.4 metre long post is oval with grooves for the netting to sit into."
Richard says EcoTrellis were great to deal with and now Chris and his son Richard Dawkins, who farms alongside his father, have asked NZST to design a shorter version for farm use.
Grass across the blocks was kept intact with cultivation only on the one metre vine rows, which allowed development to continue through winter. Sauvignon Blanc and Pinot Noir vines were planted in August, posts installed straight after and wires run early October. Approximately every 25th row has the customised posts for sheep netting with a total of 620 of the custom posts installed across the blocks. Sub-surface dripline is currently being run in the vineyard with the plan to connect and run water through by early November.
Blair says the site looks fantastic. "The rolling hills of vines are going to be stunning. I can see this style being something others will look at in the future. The way the vineyard will integrate into the overall farming operation has made this a really interesting development to have been involved with."
Futureproofing the vineyard to potentially not use herbicides and even growing organically was high on Richard's agenda. "Ultimately, it's a business decision, but I see organics becoming more mainstream with our larger European customers expecting herbicide-free growing systems. We now have the site and vineyard design which can be managed either way. Our goal is to produce premium grapes and are now working with wine companies who appreciate that."
Richard's final comment: "I will never get another opportunity like this. For a viticulturist this was such a great chance to create a unique vineyard from scratch."